18 Amazing Parks Near Glasgow That You Must Visit In 2023
Glasgow is known as the Dear Green Place, this is possible due to the fact that there are over 90 parks and gardens to explore. This post lists the best parks in the neighbourhoods of Glasgow and the parks near Glasgow.
Fancy some fresh air which is not far from the city. Or, do you need some ideas for a scenic Sunday stroll, read some ideas for the places to go in the gardens and parks near Glasgow.
There is a selection of small parks with plenty of walking trails and lakes. Also, there are regional parks and national nature reserves and we have added good places to go for a walk outside Glasgow.
Glasgow Green 
Location: Glasgow Green Car Park
Glasgow Green is the city's oldest park. You can find the largest terracotta fountain in the world, the Doulton Fountain and the beautiful McLennan Arch.
Moreover, the People's Palace, a museum dedicated to the social history of Glasgow is located in the park.
Finally, make sure to pay a visit to the city's most unusual building, the Templeton on the Green, this building has a detailed design based on the famous Doge's Palace in Venice.
Kelvingrove Park
Location: Street Parking on Kelvingrove Street
Kelvingrove Park is a classic 85-acre Victorian Park which was established in 1852. Located in the trendy area of Glasgow, the West End, you will find Kelvingrove Park right next to the University of Glasgow along with unique pubs, cafes and restaurants.
The park is set on the banks of the River Kelvin and borders the famous Kelvingrove Museum and Art Gallery. 
Sir Joseph Paxton, is the architect and MP that turned the empty woodland estate into this lovely green space.
The park has a number of interesting monuments, the open-air arts venue Kelvingrove Bandstand and Amphitheatre, a skate park, bowling and croquet green.  
Linn Park
Location: Linn Park Car Park
Linn Park is a large 82-acre park and is the second-largest park in Glasgow. The park has plenty of space and is perfect for tranquil woodland and riverside walks.
When it is snowing in the winter this park is brilliant for snowy walks and sledging. Meanwhile, in the summer, this park is a lovely place to go for a walk, jog or picnic. 
The remains of Cathcart Castle are inside the park where Mary Queen of Scots supposedly stayed the night before the battle of Langside in 1568.
Nearby, you can view the Holmwood House, a magnificent villa which was built in 1857. 
White Cart Water runs through the park, admire one of the two bridges that cross the water. Also, there is an array of flora, fauna and waterfalls dotted around the park.
Moreover, there is an 18-hole golf course and a charitable equestrian centre where the public can do an affordable horse-rising centre or go for a hack around the park. 
Alexandra Park
Location: Alexandra Park
Alexandra Park is the perfect place for a stroll in the east end of Glasgow. Opened in 1870 by King Edward VII, this park is an excellent walking and leisure space.
There are two historical fountains and from the highest point in Alexandra Park, you can get great views of Ben Lomond.
Also, Alexandra Park has plenty of picnic spots, many benches, a golf course, an orienteering track and a bowling green. 
James Hamilton Heritage Park
Location: James Hamilton Heritage Park Car Park
In the centre of the park, there is a 16-acre loch, which is an excellent place for water sports such as windsurfing, power-boating, kayaking and open-water swimming.
The Royal Yachting Association and the Scottish Canoe Association are notable organisations which use the loch. 
In the winter, you can walk around the loch and visit the 15th-century Main Castle.
The private property was once home to the Comyns, a noble Scottish family who included John III Comyn once Lord of Badenoch and Loch of Lochaber.
Once you are finished exploring you can grab a refreshing drink at Gracie's on the Loch Cafe and soak in the views across the loch.
Auchinlea Park
Location: Auchinlea Park Car Park
On the outskirts of Glasgow's East End, you will find Auchinlea Park. Two 15th-century A-listed buildings, Provanhall House and Blochairn House are located in the park.
Also, the park has a long history, you can learn about the manor's ghost stories in the former hunting lodge which belonged to King James IV. Allegedly, the master bedroom has been the place of panoramic sightings.
Visitors can walk around the pond and pretty garden grounds. Originally, the park was 74 acres, now it is a compact 20 acres due to the development of the Glasgow Fort Shopping Centre.
Once you are finished, head to the south of the park where you can grab a bite to eat at Glasgow Fort. 
Glasgow Botanic Gardens
Location: Glasgow Botanic Gardens
A tranquil space of green space and woodland walks, not far from Byres Road. Thomas Hopkirk, a botanist, founded Glasgow Botanic Gardens in 1817. There are self-guided trails to enjoy, including a tree trail and a river walk.
The gardens host over 3,000 plants and vegetables in the exhibitions in the Victorian cast-iron glasshouses. A number of ornate statues and exotic plants can be found in the Kibble Palace.
The 19th-century glasshouse was given 17 million pounds in 2004 for restoration. Also, the Botanic Gardens is a concert venue, which hosts musical events such as the West End Festival, the park is a hub of life and activity.
Victoria Park
Location: Victoria Park
Established in 1886 for Queen Victoria's Jubilee, this West End park is a valued piece of Great Britain's history. This park boasts a lot of formal floral displays, it is one of Glasgow's prettiest parks.
Visitors can admire carpet bedding and hollies. For a moment of reflection, quests can visit the memorials for the local residents who gave their lives in World Wars I and II. 
Within Victoria Park is Fossil Grove, housing the remnants of an ancient forest.
The fossilised tree stumps are thought to be around 330 million years old. Also, the park has a large pond where visitors can see swans and ducks. 
Queens Park
Location: Queens Park
A scenic and calm place, with excellent greenery, beautiful trees, and ample space to play, walk and jog. A park with the best views of the city, on a clear day you can see as far as Campsie Fells and Ben Lomond. 
Encircled by trendy south side neighbourhoods of the city, the park also features the Scottish Poetry Rose Garden, an amphitheatre, which hosts various events, a play park and a large boating pond.
Queens Park was awarded a Green Flag in 2012. 
Bellahouston Park
Location: Car Park in Bellahouston Park
Bellahouston Park is a great place to get amazing views of the city, also, you can go here for walking, cycling and relaxing. There are themed gardens to explore, complete with sculptures and a maze.
Also, the park is home to House for an Art Lover designed by Charles Rennie Mackintosh, an art gallery and exhibition space with a cafe. This park is a great place for outdoor gigs.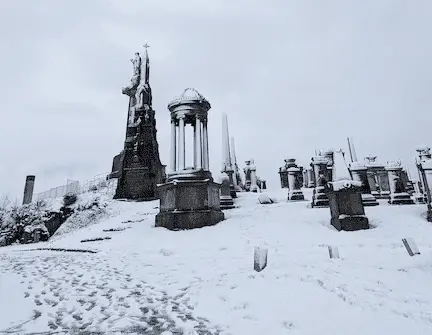 Glasgow Necropolis
Location: Glasgow Necropolis
Brimming with history is the Victorian garden cemetery located next to Merchant City. There are various architectural styles and sculptures to view.
From the top o the cemetery, you can savour the picture-perfect views. One of the most impressive is the Glasgow Cathedral, the oldest surviving medieval cathedral on mainland Scotland. 
The Necropolis was modelled on Pere-Lachaise in Paris. Estimates show that 50,000 burials have taken place here, with around 3,500 tombs.
Built in the Classical Revival architectural fashion, the Necropolis was established by the Merchants House of Glasgow in 1831. Dominating the hill is a monument dedicated to John Know which was erected in 1825. 
Cuningar Loop
Location: Cuningar Loop Car Park
As part of the Legacy 2014 project, Cuningar Loop was formed from fifteen hectares of woodland. This is an exciting woodland park on the banks of the River Clyde.
Enjoy a stroll along the three miles of riverside boardwalk, forest trails and patches walkways. There are public artworks, sculptures, bike skills area and Scotland's first outdoor bouldering park.
This is a stunning transformation from derelict land to thriving community woodland.
Tollcross Park
Location: Tollcross Swimming Centre car park
This park is delightful, it offers adventure, relaxation, wild nature and manicured lawns. 
Also, there is a fairytale castle right in the centre of the park. Tollcross Park is home to a stunning rose garden, with a staggering 240 varieties of roses.
The park has many hidden gems including Glen Nature Walk, and impressive Winter Gardens.
Also, Tollcross Park is full of points of interest and offers a welcome retreat from the busy surrounding streets. 
Hamiltonhill Claypits
Location: Hamiltonhill Claypits Local Nature Reserve
Just north of the canal is a local nature reserve called the Hamilton Claypits. A hidden gem of Glasgow, a harmony of industry and humans.
There are some interesting artworks, a variety of wooded walks and paths from the Firhill and Applecross basins which make an urban oasis. 
Visitors can catch a  glimpse into the site's industrial past while catching great views across Glasgow.
It has grown, over many years, into a place for nature and wildlife to thrive. Today, it is a lovely green space, much-loved in the hearts of our communities and enjoyed by all those who visit. 
Dawsholm Park
Location: Dawsholm Park Car Park
A public park in Glasgow which adjoins the Kelvindale, Maryhill and Temple areas of the city. The park is 33 hectares big and is located on the River Kelvin.
The land was purchased from the council in 1922 from Sir Archibald Campbell of Succoth. In 2007, the Glasgow City Council designated the park as a Local Nature Reserve. 
Seven Lochs Wetland Park
Location: Seven Lochs Wetland Park Car Park
Seven Lochs Wetland Park is a new large-scale heritage and nature park spanning across the council boundaries between Glasgow and North Lanarkshire.
The park is a perfect place to unwind from the stresses of city life. There are seven lochs, five local nature reserves, a country park and one of Glasgow's oldest buildings at Provan Hall .  
Hogganfield Park is one of the parks in Seven Lochs. Located just north of the city, but this park will make you feel like you are deep in the country.
The park is small but beautiful. Inside the park, you will find Hogganfield Loch and a designated local nature reserve. It is a lovely option for a gentle walk and is one of the best spots in the city for bird watching. 
Roukin Glen Park
Location: Roukin Glen Park Car Park
On the south side of Glasgow, you will find this gorgeous 58-acre park. As the park is a source of plants, greenery and wildlife, it has been awarded with the Green flag status.
There are plenty of paths for visitors to explore for walking, cycling and playing. Also, there are stunning views of lovely relaxing waterfalls, river side walkways and resting places.
Moreover, there is a pond full of ducks, a skate park and outdoor gym equipment.
Once you are finished exploring you have had a bite to eat or enjoy a refreshing drink at the Boathouse Cafe while looking out to the relaxing pond. Roukin Glen Park is a lovely hidden gem.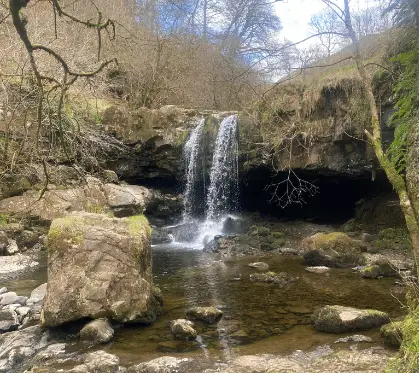 Campsie Glen
Location: Campsie Glen Car Park
A gorgeous place located north of Glasgow in East Dunbartonshire which is perfect for chasing waterfalls.
The area was a hugely popular destination in the industrial times for workers who wanted to escape the grit and smog for some clean country sir miles away. 
There are plenty of dramatic scenic views from plenty of areas in Campsie Glen. At the car park in Clachan of Campsie village, you can find public toilets and refreshments.
Also, visitors can stop in Lennoxtown for places to eat, drink and shop. There is a selection of seven routes, with short walks available into the glen. 
Dollar Glen
Location: Dollar Glen Car Park
Set in an impressive landscape with deep gorges, rushing burns and a ruined castle, Dollar Glen feels very magical.
The glen is located in a stretch of woodland, east of Stirling in the shadow of the Ochill Hills.
This is a Site of Special Scientific Interest with wildlife habitats and geology in the glen.
Castle Campbell is a 15th century stronghold of the Earl of Argyll, standing high overlooking the gorges and tree-lined slopes.
Clyde Muirshiel Regional Park
Location: Castle Semple Car Park
This regional park is Scotland's largest regional park which welcomes over 700,00 people a year.
The regional park is a lovely place and welcomes visitors from Renfrewshire, Inverclyde, North Ayrshire and beyond.
With easy access to great walking country woodlands and heather moorland hills, this is a popular choice for locals to visit to get away from city life. 
Visitors can hike up the small hills of Misty Law and Hill of Stake or walk to the now-disused Barytes Mine. There are shorter trails to follow to view the waterfalls.
There are two visitor centres to visit, these are Castle Semple Visitor Centre and Greenock Cut Visitor Centre.
Final Note
There are 90 green spaces in the city of Glasgow and the surrounding areas. This post lists the best eighteen parks that you can visit.
For relaxing strolls through gorgeous greenery, a lake, or a forest, you do not have to travel far in Glasgow.