20 Amazing Things To Do In Aberfeldy (Updated 2023)
Hey there! Some links on this page are affiliate links which means that, if you choose to make a purchase, I may earn a small commission at no extra cost to you. I greatly appreciate your support!
Aberfeldy is a lively pretty town located near the banks of the River Tay in Highland Perthshire. This post explores the best things to do in Aberfeldy.
One of the notable attractions in Aberfeldy is the Birks of Aberfeldy which was made famous by Robert Burns. Additionally, Aberfeldy is in a prime location near other Highland Perthshire villages including Kenmore, Killin and Dull.
Exploring this part of Perth and Kinross is ideal for adventurous travellers. Also, exploring villages in Perth and Kinross is perfect for a staycation in you live in Scotland.
In addition, the area has historic castles and distilleries. If you want to enjoy the brilliant outdoors, there are waterfalls, geological formations, lochs, hills and Munros to explore.
The points of interest below are listed in chronological order to guide you successfully through the beauty of the Highlands of Perthshire. 
Aberfeldy Accommodation: Brae House, Rannoch Lodge Aberfeldy, Moness Resort, Balnearn House
Falls of Moness / Birks of Aberfeldy
Location: Birks of Aberfeldy
To view the falls you can complete a beautiful nature walk that stretches through woodlands of birch, oak and pine. First of all, you start at the upper Aberfeldy car park.
Then, follow the clearly marked paths through the woodland until you will come across a Robert Burns statue and Burns Cave. The Burns Cave is said to be the place where Robert Burns was inspired to write his famous poem at the Falls of Moness. 
Afterwards, you can follow the boardwalk to reach the Upper Falls of Moness. The bridge stands above the 150 metres drop into the gorge below so you can admire the roaring white water in the gorge below.
The overall route is a 3.5 km loop and will take one to two hours depending on your walking pace. 
Aberfeldy Watermill
Location: Aberfeldy Watermill Bookstore & Cafe
Aberfeldy Watermill is a lovely ex-oatmeal mill which has been redeveloped into a bookshop, gallery and cafe. The bookstore has quite a reputation and has been listed in the New Yorker's book of the 75 great bookstores in the world.  
In addition, Aberfeldy Watermill contains a wide range of famous Scottish nonfiction and fiction novels, as well as a children's section and a variety of Scottish local interest resources including maps and walks. 
Upstairs is home to a remarkable art gallery, including a small area displaying the history of the museum. Also, you can find a few unique gifts.
Visitors can relax downstairs in comfy chairs with a coffee and cake from the cafe. There is a good range of home bakes that are locally produced.
In addition, the small menu has delicious vegan and vegetarian options included. 
Splash White Water Rafting 
Location: Splash White Water Rafting
Splash White Water Rafting is perfect for adrenaline seekers. You can experience the River Tay from a different angle by white water rafting down the rapids.
Excursions include 'Zoom Flume', 'The Washing Machine' and 'The Grandtully Rapid'. In addition, there are other great experiences to try including standup paddle boarding, abseiling and paint balling.
The tour guides are knowledgeable, fun and very experienced. Also, they are so good at getting everyone involved so if you are a complete beginner or if nerves are getting the better of you, do not worry. You are in safe hands. 
Dewar's Aberfeldy Distillery 
Location: Dewar's Aberfeldy Distillery
You know the famous Dewar's Whiskey, well, it is made here in Aberfeldy. The distillery provides Aberfeldy tours, Cask Tasting tours, Connoisseur tours, Whiskey and Chocolate tours.
In addition, you have the opportunity to learn so much about types of whisky, single malts and blended.
As well as tours, there are excellent exhibitions that display how the extra smoothness of the whiskey is achieved. Also, you can relax in the welcoming cafe and Whiskey Lounge, enjoy the splendid whiskey tasting or fill your own bottle from the hand-selected casks. 
Castle Menzies
Location: Castle Menzies
Due to a fire at Comrie Castle, the Castle Menzie was built as a replacement in 1488. The castle represents an immense and turbulent history.
Notable points include occupation by Cromwell's forces in the 1650s, the Jacobites uprising in 1715 and it was used as a place to stay for Bonnie Prince Charlie in 1746 before the Battle of Culloden.
Previously, Castle Menzies was a ruined castle, and it has been somewhat restored by the Menzie Clan Society. Restorations began in the 20th century.
Walking around the castle is extremely authentic as everything is stripped back to stone walls and timber frames. The best thing is you can view this castle without a tour guide and go at your own pace. 
Nowadays, Castle Menzies is open to visitors as there is a museum to explore. In addition, the venue is available for weddings and concerts.
All proceeds go to the maintenance and restoration of the castle and gardens. 
Highland Safaris 
Location: Highland Safari
Highland Safari offers cruises along the River Tay, Land Rover Safaris along mountains, forests and 4×4 off road driving.
On the safaris you have a chance to watch the local wildlife including red deer, owls, roe deer, red squirrels and grouse. 
Dull
Dull is a very small village, only containing a row of houses with a population of 85 people near Aberfeldy. Interestingly, the small village is paired with Boring, Oregon, USA and Bland, New South Wales, Australia.
However, despite the name it is surrounded by some jaw-dropping scenery. There is a perfect Instagram selfie opportunity at the Dull Road sign.
You can get the cheesy Instagram captions flowing. Make sure to engage with the locals when you are there, they do enjoy some Dull conversations. 
Nearby Accommodation: The Steading
Fortingall Yew Tree
Location: Fortingall Yew Tree
Fortingall Yew Tree is known to be one of the oldest ancient European trees in Britain. Experts estimate that the tree is between 2,000 and 3,000 years old.
Others estimate that it can be as old as 9,000 years old. The Yew Tree is located in the churchyard of a small village called Fortingall.
Fortingall itself is a small cute village with lots of character. There are some thatched cottages which are unusual for mainland Scotland.
Also, the lovely little churchyard has so much history. It is a good wee stop to appreciate the simplicity of what it stands for.
Fortingall Accommodation: The Salmon House
Garth Castle, Canmore
Location: Garth Castle
The castle was built in the 14th century by Alexander Stewart, the Wolf of Badenoch. Also, Garth Castle is rumoured to be haunted by his wife and another resident who lived there.
The castle was bought by an American family in 1996, who uses Garth Castle as a holiday home for family and friends. Although Garth Castle has a deep creepy nostalgic history.
It is not open to the public as it is privately owned and their privacy must be respected. However, it is interesting to read up on if you are a history buff. 
Drummond Hill and Black Rock Viewpoint
Location: Drummond Hill – Black Rock Car Park
To walk up Drummond Hill you can park at Mains of Taymouth Car Park. At the car park, there is an information board which will display two paths to choose from.
The whole route is 7 km long and will take one and half hours to two hours depending on your walking pace.
Black Rock Viewpoint is a lookout over Loch Tay and the huge Taymouth Castle. The view is outstanding!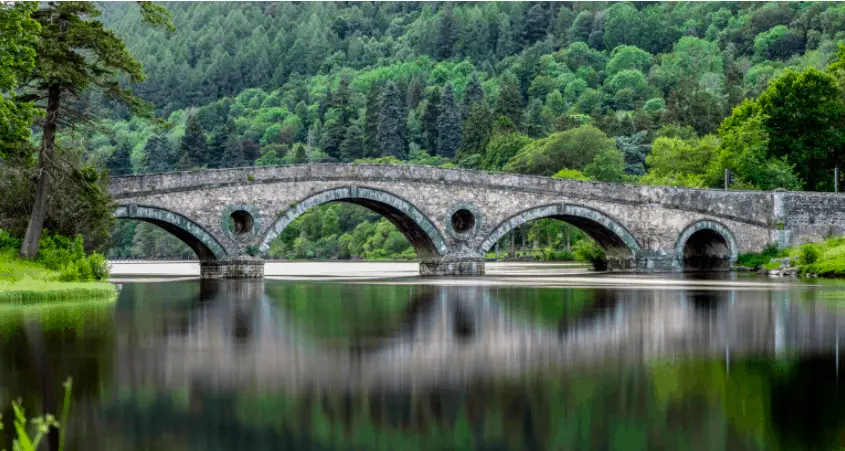 Kenmore 
Kenmore is a small village in the heart of Scotland located six miles outside Aberfeldy. It is located perfectly on the banks of the Loch Tay which flows into the River Tay in the north.
The small settlement will make you feel like you have travelled back in time, you can admire some of the oldest buildings in Scotland including the Post Office and Inn. 
Kenmore Accommodation: Chefs Cottage, Taymore Lodge, Mains of Taymouth Country Estate
Taymouth Castle
Location: Taymouth Castle
Taymouth Hotel is an incredible neo-gothic style castle set on 450 acres of land. The construction of the castle took 36 years and it was completed in 1842.
Taymouth Castle has been undergoing renovations since 2004 in attempt to turn the castle into a luxurious hotel. 
The castle is privately owned and not open to the public. However, you can enjoy the castle grounds following the clearly marked footpaths, golf courses or organised events that are run throughout the year. 
Scottish Crannog Centre
Location: The Scottish Crannog Centre
The Scottish Crannog Centre is one of Scotland's top heritage sites. The site features a reconstruction of an Iron Age Crannog perched on stilts above Loch Tay.
Interestingly, Crannogs originate from the Gaelic word 'Crann' which roughly translates to trees. It was fairly common to live in Crannogs before the 1600s.
Crannogs used to be popular on Loch Tay, Loch Earn and Loch Awe. The centre is very interesting as it illustrates what life was like in area 2, 500 years ago. 
Falls of Acharn 
Location: Queen's Drive
To get to the falls you can park in the Acharn village. There is a space on the west side of the burn.
In addition, there is a sign opposite a beautiful cottage indicating the start of the circuit. The alluring falls are viewed through the Victorian Hermits Cave'.
Interestingly the cave was built in the 1760s and has been visited by the famous poet, Robert Burns. Be aware there is a short steep walk to the 'Hermit's Cave'
Stepping through an archway you will receive magnificent views of the falls, where the water plummets down for 20 metres.
The upper falls, weirdly sculpted rock formations and pools can be viewed from wooden platforms further on closer to the waterfall. Make sure you do not miss it. 
Tomnadashan Mine
Location: Tomnadashan Mine
The site will be recognised by Monty Python Fans. However, for those who are not aware of the Monty Python World, Tomnadashan Mine is a failed attempt of a working mine which was built to harvest gold, copper and sulphur back in the 19th Century.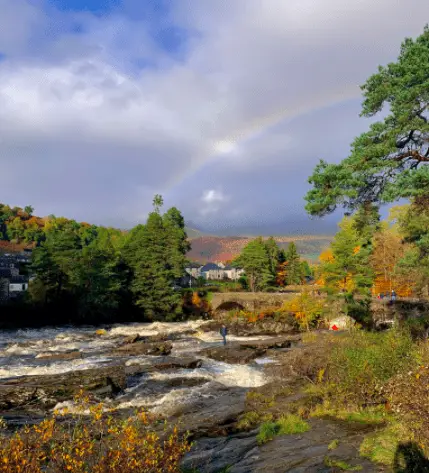 Falls of Dochart
Location: Car Park
Next, you can continue driving to the west side of Loch Tay. The Falls of Dochart is located in Killin, a small community in the Loch Lomond & The Trossachs National Park.
The Falls of Dochart is a gentle waterfall which is a lot lower and less dramatic than the other falls that I have mentioned.
However, it is an excellent setting for a cuppa or a beer. There is a good choice of places to eat in Killin.
Finlarig Castle 
Location: Pier Road
As you drive out of Killin and on the opposite side of Loch Tay you will come across the eerie ruins of Finlarig Castle. Finlarig Castle is one of the prehistoric castles built in the 16th century.
Which was perfectly positioned as a defensive site overlooking Loch Tay. Be aware of the ruins as they are not safe so any visitor should tread carefully.
Some parts of the castle are recognisable however, other parts are a pile of stone.
You can almost recognise the old cellar, staircase and the beheading pit. The whole site is teeming with mystery. 
Killin Accommodation: Craiglea Thistle, Capercaillie, Waterfall Lodge
Aberfeldy Munros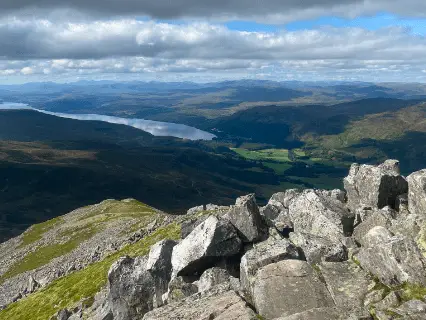 Schiehallion 
Location: Braes of Foss Car Park
The Braes of Foss car park is only a twenty-minute drive from Aberfeldy. Also, the Schiehallion is a straightforward mountain peak and is well known for its conical shape.
The whole route is 10 kilometres and will take five to six hours depending on your ability. If you are not an experienced walker but you want to bag a munro on your Scottish trip.
Then I suggest the Schiehallion as it is one of the easier options to get started.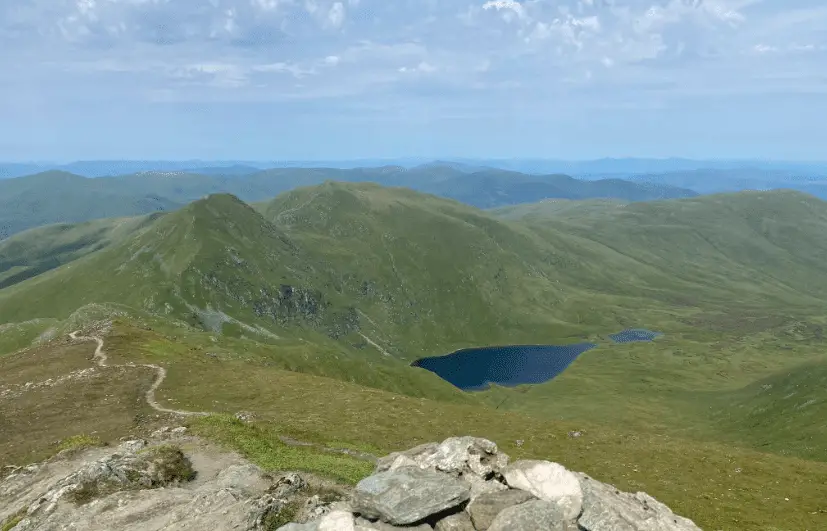 Ben Lawers and Beinn Ghlas
Location: Ben Lawers Car Park
Ben Lawers is the tenth highest munro in Scotland. The height of Ben Lawers is 1,214 metres and it is the peak of the mountain range that looks onto Loch Tay.
There is a car park that is quite high up, which gives you more of a reason to do it. Also, the area is a National Nature Reserve run by the National Trust Scotland to prevent erosion in the area.
Therefore, as the area is protected you will have to pay for parking which goes towards conservation.
Beinn Ghlas actually climbed first on route to Ben Lawers. Many people do not realise this when they undertake the route.
The peak stands at 1, 103 metres. Interestingly, Beinn Ghlas roughly translates to green-grey mountain.
If you are a more experienced walker you can tick off more Munros on this circuit. The other peaks include An Stuc, Meall Garbh and Meall Greigh.
These peaks surround a Corrie known as Lochan nan Cat. Also, there are more additional peaks in this area including Meall Corranaich and Meall a'Choire Leith.
Aberfeldy Hotels
The Kenmore Inn, Kenmore
The Kenmore Inn is Scotland's oldest hotel. In the restaurant you can enjoy undisturbed panoramic views of Loch view, Kenmore Bridge and the surrounding breathtaking scenery.
Robert Burns also paid a visit here in 1787 and left a poem written on one of the walls. 
Breadalbane Arms Hotel, Aberfeldy
Breadalbane is an old coaching style hotel. The hotel is a basic budget two star hotel which serves your daily needs.
If you are aiming to go out and explore the area, and rarely need to spend time in your accommodation. Then Breadalbane is the ideal place to stay for you. 
Schiehallion Hotel, Aberfeldy
Schiehallion Hotel is a spacious four-star hotel, with a brilliant bistro and bar. It is the ideal base to explore the Aberfeldy area.
Aberfeldy Campsites
Glengoulandie Camping and Caravanning
Glengoulandie Campsite is a fifteen minute drive from Aberfeldy. The campsite was recently refurbished and has an idyllic setting as it is set in the green rolling hills of the foreground of the Schiehallion.
In addition, Glengoulandie is not very popular, therefore it is quiet with a friendly atmosphere.  
Aberfeldy Weather
Like most of Scotland the weather can be unpredictable at times. Scotland is known for a maritime climate with cool winters and mild summers.
Make sure you have packed sunscreen, warm clothes, good footwear and a waterproof jacket because you never know what to expect. 
Kenmore, Killin and Aberfeldy look completely different depending on the season. In the winter, the surrounding mountain peaks will be covered in snow and the lochs are frozen over.
However, in the Autumn all the leaves on the trees are changing to a bright orange colour making everything you see suitable for a Instagram photo.
Then in the summer, it is warmer,  the nights stretch out and the sunsets are as late as 10 pm at night. Therefore, all times of the year are suitable to visit Scotland as all seasons bring some magic to the atmosphere. 
Aberfeldy Restaurants
The Paper Boat on Loch Tay, Kenmore
The Paper Boat is a dream of a business set up recently by a couple. This cafe is a dream as it is set in the most enchanted setting at Kenmore.
In addition, the menu is delicious as they serve tasty treats fresh to order. Including scones, home baking, ice cream and coffee. 
I suggest trying and finding a seat here when you visit Kenmore.
The Tay, Aberfeldy
The Tay is a lucky find and it is perfect for a lunchtime or brunch snack. In addition, the paninis are huge with a large selection of fillings. It is definitely a great local find in Aberfeldy. 
Falls of Dochart Inn, Killin
The Inn is opposite the Falls of Dochart. Inside of the pub it is just so cosy, there is an amazing large open fire.
Also, the interior is charming with bare stone while being furnished with contemporary country furniture.
Most importantly, the menu is delicious, food is fresh and flavoursome and the portions are excellent value for money. So make sure you take a break here.
Final Note
The Highlands of Perthshire have one of the most scenic landscapes in Scotland. There are so many hidden gems in the remote villages of Perthshire.
As displayed in this post, there are so many things to do that travellers can do which will make your trip to the highlands so magical. 
From adrenaline rushing activities such as water rafting, to Munro bagging and to sitting with a cosy cuppa in the best wee bookshop in Scotland.
You will not be bored in this small part of the world. Let me know how the exploring goes in the comments below.