21 Best Towns and Villages in East Lothian to Visit
East Lothian has many villages along the stunning coastline that borders the River Forth and the North Sea. This post lists the best towns and villages in East Lothian.
There are lovely sandy beaches at Gullane, spectacular beaches and some of the country's finest golf courses.
Also, there is an opportunity to discover a rich heritage, learn about witches and wizards and search for mythical creatures. Moreover, you can visit castles, learn about kings and queens, and visit castles and stately homes. 
There is so much to discover. You can learn about the history that plays an important role in shaping how Scotland is today.
Aberlady
Aberlady is a coastal village with an estimated population of 1,260. This area was one of the first Christian settlements, in the 8th century, monks of the Celtic church arrived here. 
The town once had a bustling port and tanning leather, cattle feed and manure were all imported. Also, the area was booming in the 18th century and grains were exported. 
When the railways began to expand in the 19th century, the port began to decline. Nowadays, Aberlady is a picturesque village located next to Aberlday Bay. 
Aberlady Bay is a lovely nature reserve which is home to a wide range of wading birds. At Aberlady Nature Reserve you can find wheaters, whitethroat and blackcaps, along with wading birds, redshank and lapwing.
During the autumn months, it is great to see the geese arrive here to spend the winter. Also, at low tide, the remains of World War II midget submarines can be spotted buried in the sand. 
In the village, you can wander along Main Street and look for the loupin' stone. Also, pop into Duck's Inn or Aberlady Inn after visiting the Myreton Motor Museum and the Scottish Ornithologists Clubs Waterston House Art Gallery.
Things to do in Aberlady
Aberlady Bay
Loupin' Stone
Myreton Motor Museum
Scottish Ornithologists Clubs Waterston House Art Gallery
Dirleton
Dirleton is a picturesque village located three miles from North Berwick.  The small village is home to the ruins of Dirleton Castle. 
Dirleton Castle was home to three families, the De Vauxes, the Haliburton and the Ruthvens, now Historic Environment Scotland takes care of the site. The ruined castle is surrounded by wonderfully planted gardens which were developed in the 19th century. 
Also, on the grounds is the world's largest herbaceous border. This is a great place to immerse yourself in history, there is a programme of special events. 
In addition, Dirleton is a good place to base yourself for visiting Yellowcraig Beach. From Yellowcraig you can enjoy views across to Fidra Island, the island that inspired Robert Louis Stevenson's book Treasure Island. 
Things to do in Dirleton
Dirleton Castle
Yellowcraig Beach
Fidra Island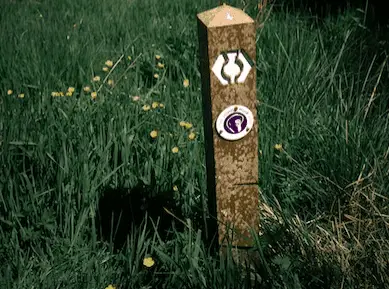 Dunbar
Dunbar is a coastal town which is the famed birthplace of the environmentalist and conservationist, John Muir. John Muir was born in 1838, emigrated to the USA and was known as the Father of America's National Parks.
There is a significant fishing heritage in Dunbar, two harbours are still present – Victoria and Cromwell. The main catch was herring, the 'silver darlings', fishwives carried the catch along the Herring Road to Lauder.
This small town is steeped in history, the ruins of Dunbar Castle at the entrance of Victoria Harbour have witnessed many historical events. The first battle of the Scottish Wars of Independence was fought in 1296 a few miles south of the castle.
At Dunbar, you can visit the Dunbar Bear, a statue created by Andy Scott (creator of The Kelpies) as a tribute to John Muir. For those who are adventurous, head to Foxlake Adventures where you can enjoy wakeboarding and the UK's only rope course over water.
Also, you can learn more about John Muir. John Muir Birthplace is set in Dunbar, at the endpoint of the long-distance walking route, The John Muir Way. 
Take a stroll in the John Muir Country Park. This park is ideal for those nature lovers and natural history enthusiasts. 
Dunbar is perfect for families, spend an afternoon at the East Links Family Park where there are lots of activities including go-karts, trampolines and mini golf. Also, the Dunbar Leisure Pool has a wave machine, flumes and exciting water features. 
Finally, you have a beach day at either Belhaven Bay or East Beach. At Belhaven Bay, get a shot of the iconic Bridge to Nowhere over the Biel Water.
Things to do in Dunbar
Dunbar Castle
Victoria Harbour
Dunbar Bear
John Muir Birthplace
John Muir Way
John Muir Country Park
East Links Family Park
Foxlake Adventures
Dunbar Leisure Pool
Belhaven Bay
East Beach
Gullane
Gullane is a golfer's paradise. There are four Golf clubs, Muirfield Golf Club has a course specifically for children and has hosted the Scottish Open and The Open in 2015 and 2013 respectively. 
Gullane Bents is a beautiful sandy beach which is backed by large sand dunes. The grassland is a stunning habitat and supports a wealth of coastal plants.
Visitors can head to Archerfield Walled Garden. There is a Fairy Trail a walled garden, a garden centre and a gift shop.
Chesters Hill Fort is an Iron Age Hill Fort which is great to climb to. Also, there are remains of round houses, defensive walls and ditches.
Things to do In Gullane
Archerfield Walled Garden
Chesters Hill Fort
Gullane Bents
Muirfield Golf Course
Haddington
Haddington is located on the banks of the River Tyne and is known as 'the hidden toun'. The town is filled with traditions wynds and closes, there are many independent retailers, cafes and restaurants. 
There is a Farmer's Market on the last Saturday of every month. The townhouse in Haddington was designed by Architect William Adam. 
Scotland's longest parish church, St Mary's Church is located in Haddington. Visitors can experience serenity at Amisfield Walled Garden, which dates back to the 18th century and is one of the largest in Scotland. 
Hailes Castle is a stunning spot located on the River Tyne, five miles from Haddington. Nearby is Lennoxlove House, tours can be booked here and you can discover the lovely art collection and artefacts from the Mary Queen of Scots.
Things to do in Haddington
St Marys Church
John Gray Centre
St Mary's Pleasance
Lennoxlove House
Traprain Law
Hailes Castle
Longniddry
Longniddry is a lovely coastal town. Gosford House is located towards the east of the village. 
The 18th-century neo-classical house was designed by architect Robert Adam. The house has an impressive history, from being damaged during World war II to now being used as a setting in the hit TV series Outlander.
Along the coast, you can find a few beaches, one of which is the popular Seton Sands. Also, Longiddry Golf Club is located along the coast. 
Longniddry Bents is a long beach with a mixture of sand and rocks, the location at the coastline makes it a popular destination for watersport enthusiasts including kite-surfers, canoeists and windsurfers.
Things to do in Longniddry
Seton Sands
Longniddry Golf Course
Gosford House and Estate
Longniddry Bents
Musselburgh
Musselburgh is a historic market town, known as 'The Honest Toun'. The town is home to the oldest golf course in the world and is well known for its racecourse.
You can learn about the history of the town at Musselburgh Museum. Also, you can visit the thriving music and theatre venue – The Brunton Theatre.
Get your historical fix at one of the National Trust For Scotland sites near Musselburgh, including the Inveresk Lodge Garden and Newhailes House and Garden. Finally, you can explore the outdoors on the Musselburgh Trail or walk to the Carberry Hill Monument.
Things to do in Musselburgh
Musselburgh Museum
Musselburgh Links
The Brunton Theatre
Newhailes House & Garden
Inveresk Lodge Garden
Carberry Hill Monument
Musselburgh Trail
North Berwick
North Berwick is a stylish harbour town which has been a welcoming holiday resort since the 19th century. There is a history of witchcraft in North Berwick and one of the first witchcraft trials took place here.
You can view Bass Rock, which has the world's largest Northern Gannet colony. The Scottish Seabird Centre has amazing live cameras that zoom in on the wildlife on Bass Rock. 
Also, from North Berwick, there are views out to Fidra, Lamb and Craiglieth Islands. Boat trips are available to Bass Rock and the other Firth of Forth Islands.
The impressive Tantallon Castle is located on a clifftop. There are magnificent views across the Firth of Forth.
Finally, you can hike to the top of the Berwick Law. Berwick Law is a 187 metres hill which was an ancient volcanic plug which erupted 300 million years ago. The hill dominates much of the skyline and can be seen for miles around. 
Things to do in North Berwick
Bass Rock
Scottish Seabird Centre
Tantallon Castle
Berwick Law
Port Seton & Cockenzie
Port Seton & Cockenzie are two charming fishing villages which have joined together. Long ago, Cockenzie was important for coal mining and salt panning. 
The harbour at Port Seton was first established in 1656 by the 11th Lord Seton. The Tranent Wagonway was built in 1722 and was used to transport troops to the Battle of Prestonpans in the 2nd Jacobite Rising in 1745. 
Also, the fishing heritage still stands in Port Seaton & Cockenzie. There is a good selection of family-run businesses including Fish and Chip shops.
Things to do in Port Seton & Cockenzie
Seton Collegiate Church
Waggonway Museum 
Cockenzie House & Garden
Prestonpans
Prestonpans has a long history. The town was first established when monks arrived here in 1184. 
The town was the centre of many key industries including coal mining, salt works, soap-making, brewing, brick-laying and pottery. It is believed that coal mining in Britain was first discovered here by the monks in the 13th century.
Head to the Prestongrange Museum to learn more about Prestonpans industrial history. Also, make sure to visit the 15th-century tower house – Preston Tower, and enjoy the wonderful restored gardens.
Prestonpans has many acknowledgements of its industrial past. Follow the town's mural trail, and take a photo of the Mercat Cross, one of a kind in Scotland.
Things to do in Prestonpans
Preston Tower
Memorial of the Battle of Prestonpans
Prestongrange Museum
Prestoungrange Gothernburg
Smaller Settlements in East Lothian
Atherlstaneford
Atherlstaneford is a village in East Lothian, located near Haddington. The small settlement is known for being the birthplace of The Saltire, Scotland's national flag. 
Back in the 9th century, there was a legendary battle between Saxon King Athelstane and Pictish King Hungus. This famous battle is where the village got its name from. 
Also, before the battle, King Angus prayed for victory. St Andrew became the saint of Scotland and the Saltire Cross is the oldest flag in Europe and the Commonwealth.
During your visit to Atherstanford learn more about the flag at the Flag Heritage Centre and travel to the National Museum of Flight where you can discover a range of aircraft.
Things to do in Atherstaneford
Flag Heritage Centre
National Museum of Flight
East Linton
East Linton is a lovely village located between Haddington and Dunbar. The River Tyne runs through East Linton and provided a water supply for the mill industry. 
Just outside of the village, you will find 16th-century Preston Mill. This mill is one of the oldest meal mills in Scotland and is owned by the National Trust for Scotland. 
Things to do in East Linton
Preston Kirk
The Linn Waterfall
Preston Mill
Garvald
Garvald is famous for the sandstone buildings that are dotted around the village. This is the same material which is used to build St Mary's Church in Haddington. 
Garvald is home to prehistoric houses, stone circles and burial cairns. Also, Limekilns are found on the hillsides and were used to produce agricultural lime to make crops better. 
Things to do in Garvald
Garvald and Bara Parish Church
White Castle
Lammermuir Hills
Sancta Maria Abbey
Gifford
Gifford is a lovely old market town with lovely houses, a church, a town square and 18th century Mercat Cross. This is a perfect place to stop before you go exploring the Lammermuir Hills. 
Gifford is also known for Yester Castle. Yester Castle is associated with wizards, devils and goblins. Very little of the castle is left today. 
Things to do In Gifford
Yester Castle
Yester Parish Church
Humbie
Only a few hundred people live in Humbie. This small rural village is located at the foot of Lammermuir Hills.
Things to do in Humbie
Humbrie Hub
Humbie Parish Church
Haide Castle
Innerwick
Innerwick is a small village near Dunbar surrounded by farms. Nearby is Doon Hill where Scotland's first-generation farmers built a huge timber hall almost 6,000 years ago. 
Nearby in Thorton Glen is the ruins of Innerwick Castle. The castle was built in the 14th century by the Stewart family and is currently not open to visitors.
Things to do in Innerwick
Thorton Glen
Doon Hill
Torness Visitor Centre
John Muir Link
Dunglass Collegiate Church
Ormiston
Ormiston was a planned village which was established in the 18th century. The main industry for Ormiston was mining with some fine farming opportunities. 
Things to do in Ormiston
Pencaitland
Pencaitland first began in the 12th century when the parish church was first established. By the 17th century, the village was a market town. 
The Tyne Water separates the village in half and there is a three-arched 16th-century bridge crossing over the water. 
In the 12th century, Winton Castle was built. Winton Castle has experienced multiple events and owners. However, nowadays, the castle is a lovely venue for business events, private parties and weddings. 
Glenkinchie Distillery is located just outside the village. Water from the Lammermuir Hills has been supplying the distillery since 1837. 
Things to do in Pencaitland
Winton Castle & Estate
Glenkinchie Distillery
Stenton
Stenton was established as an agricultural town in the 16th century. Many of the buildings are built from red sandstone and have orange pantile roofs. 
When you visit make sure to look for the 19th-century Stenton's Gothic Parish Church. More specifically, you can admire the stained glass windows which are among the best of the period. 
Just outside of the village in Pressennan Wood which features Pressmennan Lake. There are plenty of waymarked paths to choose from and you might be able to spot roe deer, bats, woodpeckers and otters.
Things to do in Stenton
Stenton's Gothic Parish Church
Pressemennan Wood
Tranent
Tranent is located almost 10 miles from Edinburgh. It is well known as being one of the oldest mining communities in Scotland.
Coal was carried from Tranent to Cockenzie on Scotland's first wagonway. As the mines were closed in 1963, many people who live here commute to Edinburgh or work in new industries. 
The town commemorates the Massacre of Tranent where twelve local people were killed by soldiers in 1797. The locals were protesting against conscription into the county militia. 
Things to do in Tranent
Loch Centre
1722 Tranent-Cockenzie Waggonway
Fa'side Castle
Tyinghame
Tyinghame is a charming Conservation Area with pretty pink houses. In the mid-700s the settlement was founded by a religious community. 
In 1761, the Earl of Haddington demolished the village to make room for the garden at Tyninhame House. The village was rebuilt in the spot where it is located now. 
Things to do in Tyinghame
What is East Lothian known for?
East Lothian is one of the sunniest spots in Scotland. There are 21 golf courses, sandy beaches and stunning cliffs. 
Also, East Lothian has an interesting and rich heritage, John Muir a well-known conservationist was born in Dunbar in the 19th century. 
What is the biggest town in East Lothian?
Musselburgh is the main town in East Lothian. It is the largest settlement with a population of 21,100. 
What are the largest towns in East Lothian?
The three largest towns in East Lothian are Musselburgh (population is 21,100), Prestonpans (population is 10,460) and Haddington (population is 10,360). 
How many towns are in East Lothian?
There are almost 70 towns, villages and hamlets in East Lothian. This post lists the 21 most touristy towns and villages in East Lothian. 
Five of these settlements have a population of more than 7,000 people. The five towns are Musselburgh, Prestonpans, Haddingon, Dunbar and North Berwick. 
Final Note
This post lists the best towns, villages and hamlets in East Lothian. East Lothian is a great place to visit due to its cultural heritage, history, grand castles and stunning coastline. 
Some of the villages and towns can be visited together in one day. There are excellent small businesses including retail shops, cafes and restaurants that are worth visiting.