30 Amazing Things to Do Around Glencoe Scotland In 2023
Hey there! Some links on this page are affiliate links which means that, if you choose to make a purchase, I may earn a small commission at no extra cost to you. I greatly appreciate your support!
The impressive Glencoe area has some spectacular landscalopes like nowhere else in the world. This posts the best things to do around Glencoe and surrounding areas such as Fort William and Glenfinnan.
If you are looking for a weekend getaway or staycation, I highly recommend paying a visit to the Western Highlands! It is a stunning part of Scotland and is a very welcoming area for travellers.
You can relax at white sand beaches, explore abandoned sites, and go for a hike. Or you can look for spectacular waterfalls, pose at famous Hollywood scenes or chill in a cosy pub.
This post provides a fun-filled itinerary for Glencoe, Fort William, Glenfinnan and Morar.
Glencoe
Glencoe is Scotland's most famous glen with awe-inspiring landscapes. The Hidden Valley is an excellent scenic drive for taking photos.
Also, there are various walking trails and paths for almost every ability, including the West Highland Way.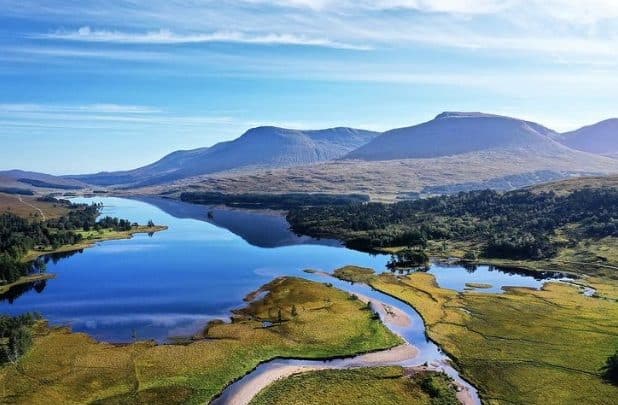 Loch Tulla, Glencoe
Location: Loch Tulla Viewpoint
The first popular stop on the list, is Loch Tulla. There is a large space for parking just alongside the main road.
This is an impressive view across the loch because the surrounding countryside is breathtaking. Loch Tulla marks the halfway point from Loch Lomond and the Trossachs National park.
There is usually a food truck stopped in the parking area, however, there are no toilet facilities.
Most importantly, when driving in the Scottish Highlands, be aware of the 'Highland Mile'. Remember driving may take longer, and you might get stuck behind a caravan or two.
So make sure you give yourself plenty of time to drive. The drive to this point may have been an adventurous one through Loch Lomond and the Trossachs National Park. This is a great point to stop and break up the journey.
Loch Tulla is a two-and-a-half-hour drive from Edinburgh, Dundee and Inverness, and approximately one hour 45 minutes drive from Glasgow. This is an excellent stop point to stretch your legs before you get the see the magnificent landscapes.
Nearby Accommodation: Bridge of Orchy Hotel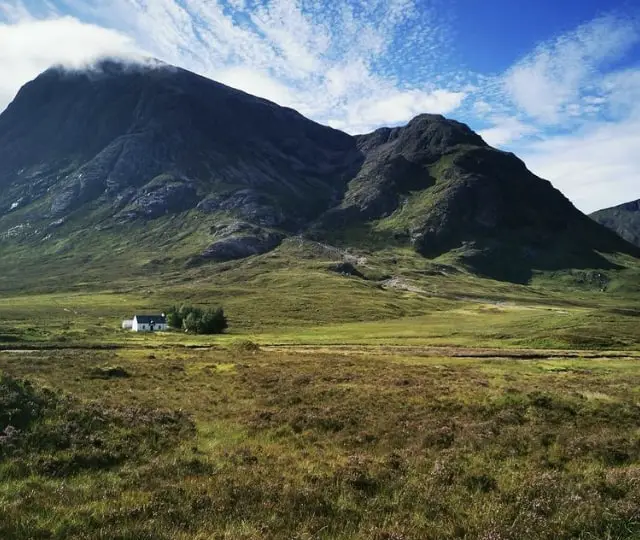 Buachaille Etive Mor, Glencoe
Location: Buachaille Etive Mor Car Park
Upon arriving at Glencoe the first view that people feast their eyes on is the Buachaille Etive Mor. Etive Mor is known as Scotland's most photographed mountain for its iconic 1000 feet height and conical shape.
I would recommend parking in a lay-by at Altnafeadh for a great photo or to commence the incredible hike to the summit. Also, nearby to Buachaille Etive Mor and Buachaille Etive Beag, the scenes were recorded for the famous Skyfall movie.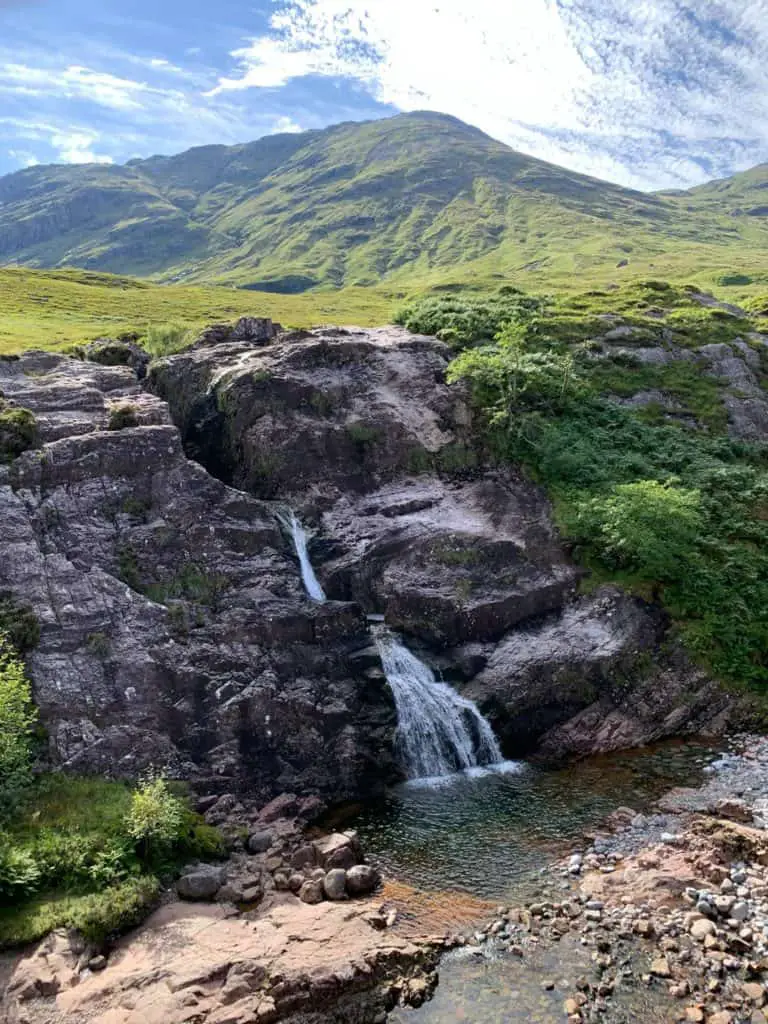 Meeting of the Three Waters, Glencoe
Location: Parking near the Meeting of the Three Waters
Next on the list is the 'Meeting of the Three Waters'. The waterfall is situated at the foot of the Three Sisters.
It is an easy win for any photographer and just a few yards from a car parking lay-by. Also, after heavy rain or snowfall you are in for a treat for these magnificent rapids.
Three Sisters, Glencoe
Location: Three Sisters Car Park
The Three Sisters are three peaks also known as 'Bidean nam Bian'. More specifically, Beinn Fhada, Gearr Anach and Aonach Dubh are the three ridges that create the Three Sisters.
Here you can catch an amazing photo opportunity from the small car park at the base of the mountains. Also, you can hike Munro's features as part of the Three Sisters.
This walk will take you approximately eight hours.  The scenic viewpoint of the Three Sisters is less than a five-minute drive from the Meeting of the Three Waters.
Loch Achtriochtan, Glencoe
Location: Loch Achtriochtan Car Park
Loch Achtriochtan is another unmissable stunning photo spot located three miles east of Glen Coe village and north of the Three Sisters.
There is a small parking area next to the main road. Look at the photo below, this is a great stop, I highly recommend!
Glencoe Campsite
There are several amazing campsites in Glencoe. The sites are located in picturesque spots sheltered by mountain landscape surroundings.
Invercoe Caravan and Camping offers lodges, cottages, caravan and pitching sites. Prices start from £27 and go up to £75 for a lodge. 
Glencoe Camping and Caravanning Club Site is a glorious campsite located at the foot of the mountains. Prices start at £6 per person for a site without electrics. 
Red Squirrel Campsite is in a charming spot, nestled in the mountains there is such a tranquil atmosphere. The campsite is perfect for campers and the prices start at £12 per person per night.
Glencoe Accommodation: Glencoe Youth Hostel, Hawthorn Cottage, Glencoe House, Tigh Ban
Fort William
Fort William is tucked away at the bottom of Ben Nevis, looking onto two secluded lochs, Loch Linnhe and Loch Eil is the small town of Fort William. Also, Fort William is known as the outdoor capital of the United Kingdom and it is an excellent base for Western Highland trips.
So, make sure you stay here for at least a night to enjoy the local museums, outdoor activities, restaurants, and pubs the small town offers.
What is Fort William Famous For?
Interestingly, Fort William was the first town in the United Kingdom to light up the streets using hydroelectricity in 1896. More recently, it is famous for the passing of the steam train – Jacobite Express also known as Hogwarts Express in Harry Potter. 
On top of that, Fort William is an excellent small town for tourists to relax. There is so much to explore in surrounding areas, it is a perfect place to base yourself for the Ben Nevis climb and or the ascent of other dramatic hills.
Also, it is a perfect area to visit historic castles, marvel at film set locations or view beaches with white sand and turquoise waters.
Ben Nevis
Location: Ben Nevis Parking
Fort Williams's biggest attraction is Ben Nevis, which is Scottish Gaelic for 'malicious mountain'. I have heard a few people describe the 4,411 feet ascent with a few worse words.
Ben Nevis's summit is a long way up – taking a whole eight hours to get there and back.
Also, some hikers start early so they can get back to Fort William in time for a pint, others choose to camp the night on Ben Nevis to catch the breath-taking sunset. Overall, the ascent is 100% worth it, you can see up to 150 miles on a clear day from the summit.
As a reward, you get the best view of the Scottish Highlands and catch a glimpse of the the Irish coast. If you fancy the challenge make sure you have good hiking shoes, and plenty of food and drink to keep you going.
Nearby Accommodation: Glen Nevis Youth Hostel
Steall Waterfall
Location: Upper Glen Nevis Car Park
The second-highest waterfall in Scotland running over 394 feet. You can park your car at Glen Nevis car park.
The route can be slippery therefore it is best to wear hiking boots or a good pair of running shoes.
Fun fact: Quidditch match scenes in Harry Potter were shot here. I think the creators did an amazing job at picking the best location.
Also, Ring of Steal is a famous walk around four Munro's that can be climbed in a day.
Nearby Accommodation: Ben Nevis Inn Rooms
Lochaber Geopark
Location: Lochaber Geopark Visitor Centre
This is home to some of the most breath-taking scenery in the world. Here, you can explore beaches, lochs, rivers, and mountains.
Also, you can look out for some local wildlife and learn how the rocky coast was formed over millions of years.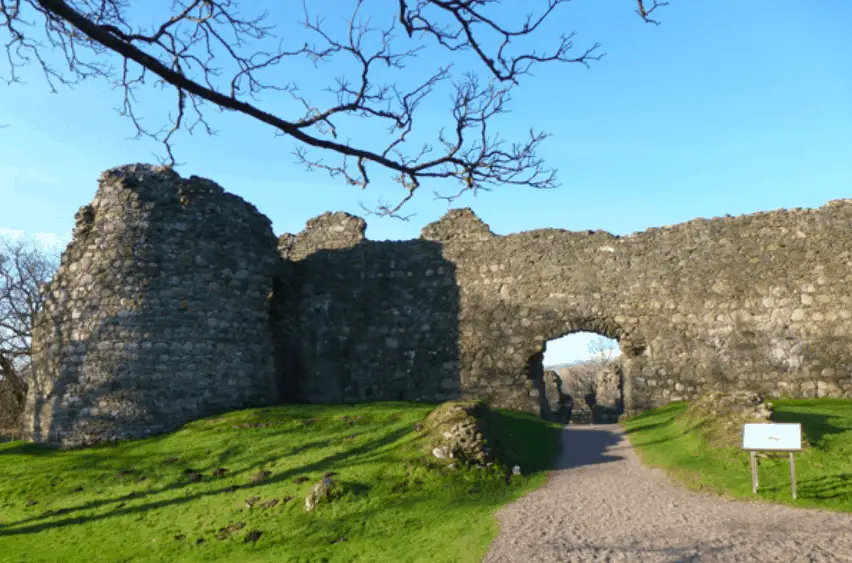 Old Inverlochy Castle
Location: Old Inverlochy Castle
A small stone ruin provides an eerie sense of what it might be like to live in the centre of the first and second battles of Inverlochy. The castle was built back in the 13th century and it is believed to be the oldest castle in Scotland.
Neptune's Staircase
Location: Neptune's Staircase
It is powerful evidence of engineering, located in Banavie, just outside Fort William. A canal spanning a quarter of a mile allowing boats to travel through.
It was built by Thomas Telford in the early 19th Century, it is still Britain's longest staircase lock.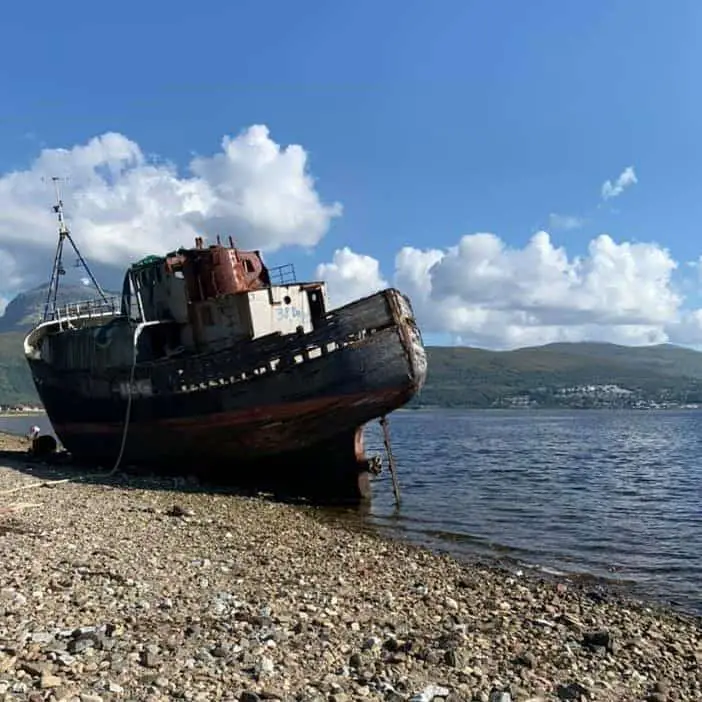 Corpach Shipwreck
Location: Corpach
Just outside of Fort William in a small village called Corpach lies a shipwreck. The MV Dayspring was a fishing vessel built in 1975 and moored in Kinlochleven Pier in 2001.
In 2011, a heavy storm hit causing the ship's chain to fail, and she washed up on shore and has been left there since. Currently, it is one of Scotland's least-known abandoned sites.
If you happen to arrive on a stunningly clear day, with Ben Nevis in the background, the photographs of the shipwreck can be hauntingly beautiful.
Is there still a Fort at Fort William?
The fort was first built in 1654 with expansion in 1690. Then it was named after King William of Orange.
The fort was later sold and dismantled, then the land became a railway yard for the West Highland Railway.  Also, the little remains were demolished in 1975. Now, the only little parts of the seaward wall remain.
Fort William Camping
There are some lovely campsites located on the outskirts of the small town. They are the perfect base for Ben Nevis.
Glen Nevis Caravan and Camping Park features excellent fields to pitch your tent or park your motorhome. Also, you can stay in a 'pod' from £65 a night or you can rent a caravan.
Ben Nevis Holiday Park is situated right beneath Ben Nevis. Here you can rent 'pods' with hot tubs, luxurious lodges, cosy caravans or simply pitch your tent. This Holiday Park is a bit more pricey compared to Glen Nevis. It is an excellent spot for a holiday.
Fort William Accommodation: Number 6, The Brevins Guest House, Victoria House B&B, Fàilte Mhòr
Glenfinnan
Glenfinnan is a picturesque area with a few guest houses. The small hamlet is a half an hour's drive from Fort William.
A good place to eat is the Dining Car Tearoom which is set in a 1960s railway coach. A delicious high tea menu is served.
The tearoom has magnificent views of Loch Shiel and the surrounding mountains. In addition, you can even book to stay in a sleeping car.
Glenfinnan Accommodation: Torr Caladh, Glenfinnan Retreats, Blythswood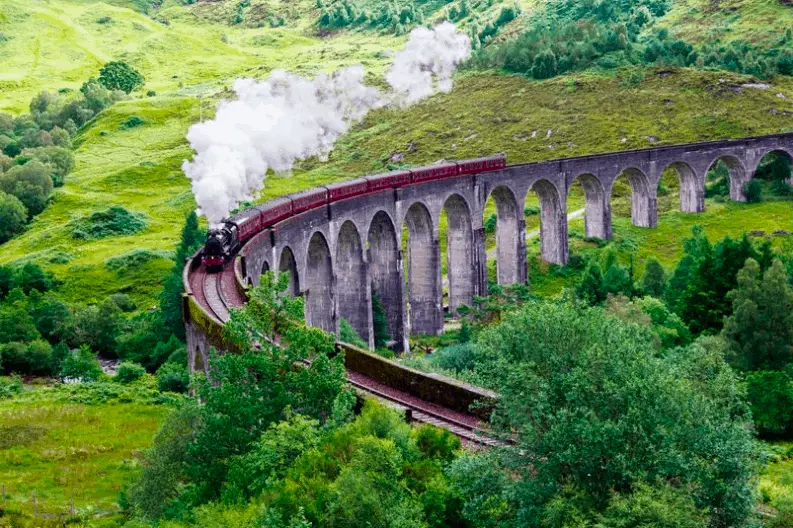 Glenfinnan Viaduct
Location: Glenfinnan Viaduct
The famous 21-arch viaduct was built in 1901. Also known as the 'Harry Potter Bridge' as the Hogwarts Express makes the journey across the viaduct features in the Harry Potter films.
Moreover, the highland beauty spot has become increasingly popular, therefore, car parking in the area has increased. There is a ten-minute uphill walk to the viewpoint from the car park.
However, if you prefer, you can walk under the viaduct or towards Glenfinnan Station to get a better view and photo. To get the ultimate magical photo of the train crossing the viaduct, make sure you are at the site at 10:45 or 15:00.
The area is run by National Trust for Scotland and a small car parking fee is required. The Jacobite steam train crosses the Glenfinnan Viaduct which has been voted one of the world's greatest train journeys.  
An 84-mile round trip passes Ben Nevis and finishes at Arisaig, Britain's most westerly railway station. Find out more information about tickets Here.
Glenfinnan Monument
Location: Glenfinnan Visitor Centre
Glenfinnan Monument is a tall column erected in 1815 to represent Bonnie Prince Charlie rallying the Jacobite clans in 1745. Also, the monument is stunning with a kilted highlander situated on top and a beautiful backdrop of Loch Shiel.
Glenfinnan Station Museum
Location: Glenfinnan Station Museum
Glenfinnan Station Museum is a fascinating little museum that shows a detailed account of building the West Highland railway line.
Loch Shiel
Location: Glenfinnan Visitor Centre
Loch Shiel is a freshwater loch and is the 4th Longest Loch in Scotland. Here, you can catch a spectacular view from facing south at the Glenfinnan Monument.
The loch is home to one of the most famous images of the Scottish Highlands with several major films using the area for shooting locations. Harry Potter fans will recognise it as the setting for Black Lake near Hogwarts.
Also, it is the birthplace of Connor and Duncan MacLeod from the popular Highlander franchise.
Mallaig & Morar
Finally, we are reaching the part of the road trip that is only well-known by Scottish locals but is skipped by international tourists.
So, consider it s the best-hidden gem in the Western Highlands. At this point in your trip, you will be looking to relax.
There is plenty of accommodation, beaches, and golf courses to do just that!
If you are considering continuing your road trip to Skye, the ferry for Skye leaves from Mallaig. Also, Morar is only half an hour's drive from historic Glenfinnan so it is a good place to break up your journey.
Mallaig Accommodation: The Wee Lodge, 2 Tougal, Arisaig B&B, Kilmory
Morar Beach
Location: Morar Beach Car Park
This stunning west coast beach is well known for its silver sands and crystal-clear blue water. Thanks to the natural beauty this area has been used as a filming location for many movies.
Also, it is a blissful tranquil beach which is excellent for relaxing. There is a car park near the beach, along with a few extra laybys to park in.
If the weather is nice, the area gets busy and the parking becomes very limited. Therefore, make sure you get there early to avoid disappointment.
Alternatively, if you are not driving, Silver Sands of Morar is the closest beach next to the Morar Train Station. Trains are running regularly from Fort William.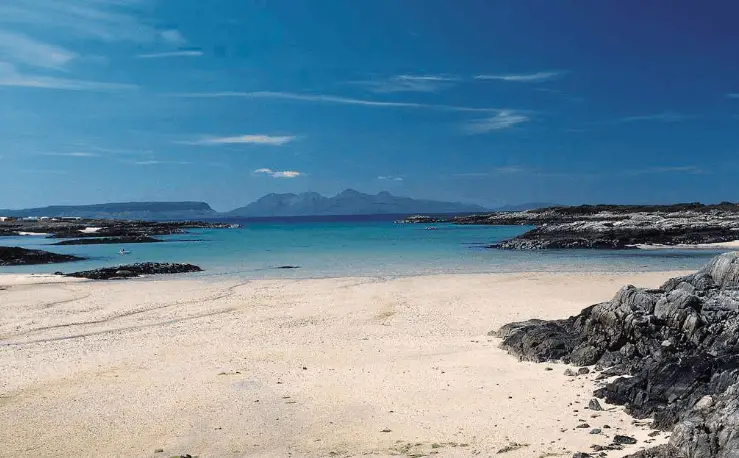 Camusdarach Beach
Location: Camusdarach Beach
A breathtaking beach with white, glistening sands and clear water just south of the estuary of River Morar. This beach is perfect for beach combing, rock pooling, dog walking or just simply relaxing.
From the beach you can notice a few Small Isles – Rum, Eigg, Muck and Canna. Also, you can spot the peaks of Cuillin on Skye. Again, Camusdarach Beach has limited parking, however, there are some campsites and self-catering accommodations nearby.
Loch Morar
Location: Loch Morar
Loch Morar is surrounded by beautiful scenery and is well known as the deepest body of freshwater in the United Kingdom. Also, it is a great place to swim, fish or explore by small boat.
You may have heard of Nessie the Loch Ness monster. However, you may not have known of Nessie's sinister cousin, Morag the Loch Morar monster.
There are accounts of sightings of the mythical creature back in the 18th and 19th centuries.
What is Glencoe Known For?
Glencoe is a well-known location for tourists and hikers due to its magnificent mountainous landscapes. Also, Glencoe is the home for mountaineering. Additionally, it is famous for the Massacre of Glencoe back in 1692.
Moreover, scenes from the movie Skyfall were filmed here. Also, following the suggested itinerary below you might recognise backdrops for several scenes in the famous Harry Potter franchise. 
Is Glencoe Worth The Visit?
Yes, I will recommend Glencoe to everyone. Driving through the valleys was a feast for your eyes. It is hard to believe that you are still in Scotland with the impressive mountainous landscapes. 
It is perfect for solo hikers, photographers and cyclists. Also, there is a visitor centre, exhibition, shop and tearoom just to add the finishing touches to your trip.
Final Note
The Western Highlands is also great for cycle paths, golfing, going on boat trips or mountain biking. I completed all the things I mentioned in two days.
However, we did not climb Ben Nevis, see Steall Waterfall, do any hiking or ride the Jacobite Express. Therefore, I suggest booking a longer trip or picking out the attractions that interest you most.
Wild camping is permitted in Scotland. However, please make sure you follow the Scottish Outdoor Access Code.
There is so much to see and do as a solo traveler in Glencoe and Fort William. You will be amazed at the magnificent mountainous landscapes.
Hopefully this post has you one step closer to booking your trip to the magnificent Glencoe, Western Highlands.